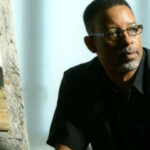 As a young man, Mitchell grew up in an impoverished area, but he has reflected on the strength of the people he knew and the sense of community.
With this exhibition, Dean Mitchell strives to challenge viewers to examine the traditional view of the American West, to experience the reality of these environments and how they affect the communities, and change this country for the better.
After visiting the Pima-Maricopa Reservation in Phoenix, AZ, Mitchell was struck by the physical world there: extreme poverty, abandoned buildings, and debris were strewn throughout the environment.
When I grew up, I didn't have very much, but we took care of the little we had. There is something deeper going on here. This is more than just poor.
Click on artwork to see details.