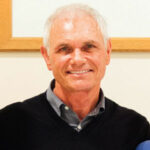 Richard MacDonald is considered by many to be the world's preeminent living figurative sculptor. A leading advocate of the neo-figurative movement in the arts, MacDonald's work has been featured in hundreds of solo and group exhibitions and is represented in important collections worldwide. His art is collected by people from all walks of life – from aspiring aficionados to celebrities and heads of state.
Committed to inspiring future generations of artists, MacDonald is involved with numerous philanthropic pursuits and the development of the arts through mentoring programs and art education in schools and universities. A member of major international social and art associations, MacDonald has received countless awards, honors, and professorships, including recognition by the United States Olympic Committee. He has the privilege of working with some of the greatest dancers and performers in the world, including those from Alvin Ailey American Dance Theatre, American Ballet Theatre, The Royal Ballet, and Cirque du Soleil.
MacDonald believes that beauty connects people and lifts their spirits to a higher level. He has dedicated his career to creating passionate works of art that dramatically enrich the lives of others.
Montgomery-Lee Fine Art represents Richard MacDonald sculptures. Our staff will happily take care of everything — from purchase to delivery. See more of his artwork from the red vault.
Click on artwork to see details.