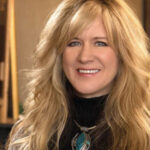 As a contemporary landscape painter, my work is a conscious play of mood, light and color, but as a naturalist raised and rooted in the diverse landscapes of western America, a painting means more than that to me. Each location is an encounter of spirit with the land, the trees, and the waters that have always given me a sense of connection and order. When a location intrigues and inspires me, I will paint the scene into a series using a range of keys or themes, experimenting and searching to learn more about the natural threads that tie the landscape together with complexity, subtlety and more importantly balance.
I look for new ways to express spatial relationships and distance with layers of paint, brushwork, gradations, and diffusions of light. Hopefully, my study of the landscape will bring me somewhat closer to an honest translation of both soul and land as I push color and value into new compositions and continue a lifelong effort to communicate the emotional connection I feel with my environment.
Click on artwork to see details.