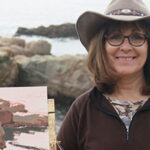 Nebraska artist, Debra Joy Groesser received her BFA degree in art in 1978 from Bellevue College (Bellevue, NE). Debra paints many subjects but is best known for her impressionistic landscape paintings, particularly her plein air work.  "Painting is such a spiritual experience for me. Nothing inspires me more than being out on location, capturing the subtle nuances of color, light and atmosphere that can only be achieved by painting from nature." Debra also paints portraits and figurative works. In 2011, she was commissioned by Omaha Performing Arts to create a large portrait of Richard and Mary Holland, which hangs at the Holland Performing Arts Center in Omaha, Nebraska.
"My greatest satisfaction in being an artist comes from successfully connecting with people on an emotional level through my artwork. My challenge is to create a sense of place and to render my subjects in such a way that the viewer will feel their spirit, the emotions I felt as I painted, and understand what attracted me to the subject.〞
Debra is a Signature member and President/CEO of the American Impressionist Society, a Master Signature member of Plein Air Artists Colorado, a Signature member of Laguna Plein Air Painters Association and American Plains Artists. She is an elected artist member of Rocky Mountain Plein Air Painters and the Salmagundi Club in New York. Her work has been featured in several national art publications including Art of the West (March 2018), American Art Collector (May 2010), Southwest Art and a feature article in  Plein Air Magazine (Oct/Nov. 2014).  She was a finalist in Southwest Art Magazine's 2012 Artistic Excellence competition. Debra was a faculty member for the 2014, 2015, 2018 and 2020 Plein Air Conventions.
Click on artwork to see details.