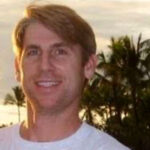 Jeff Sojka's color-drenched canvases capture the magical light and texture of each unique landscape, helping the viewer to truly be transported to each location. Viewed up close, Sojka's bold, deliberate brushstrokes vibrate with energy and movement. Step back and the individual blocks of color meld into surprising clarity. This is impressionism at its most successful. Painting mostly en plein-aire, Sojka works quickly to capture the setting in its best light. Often, with large pieces, he must return to the site several times to recapture the original light.
Jeff grew up in the San Francisco Bay area, where he was introduced to both the exhilaration of sailing and the rugged beauty of hiking the Sierra Mountains. As his love for nature became intertwined with his passion for art, he began to pursue landscape painting. Following the tradition of the early California impressionists, such as Edgar Payne and William Wendt, Jeff was inspired to paint nature up close, exposed to all the elements. He has traveled the world, painting the beauty of Europe, the Caribbean, New England, the Hawaiian Islands and the American West.
Jeff's art is a culmination of his passions. After high school, he was awarded a scholarship to study in Europe, where he was inspired by the great museums of Germany, France, Italy, and Spain. He became interested in other cultures and the amazing diversity of the landscape. He earned his Bachelor of Arts degree from U. C. Santa Barbara, where he would surf daily and frequently sail around the Channel Islands. He later received his Masters degree through San Diego State University, where spending a brief time at an ad agency, he realized that the corporate setting somewhat stifled his creativity. He needed to be out in nature.
Click on artwork to see details.