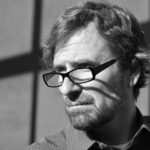 Born and raised in the pastoral eastern mountains of Northern Utah, Jake began sketching from the time he could hold a pencil. Since then, Jake has traveled the world and worked as a fisherman in Alaska, a clergyman in England, a carpenter in Costa Rica, and many things in between. Through it all he never stopped filling sketchbooks with various drawings, ideas, and creations.
Jake truly enjoys the uniqueness of everyone he meets and this translates into his ability to capture life in his figurative work. Also, his landscapes show a strong love for the outdoors. His unique humor and appetite for living are always evident in his work. Jake's presence in the art world has been well received both at home and internationally. Jake and his family recently spent a year living in the rain forests of Costa Rica. There he studied with other artists and his work was acquired by travelers from around the world. Jake now lives back in Huntsville and works out of his studio in historic downtown Ogden.
Click on artwork to see details.