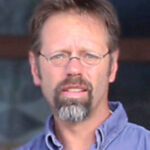 Wilson was born and raised in Telluride, CO, when it was more wilderness than resort — the perfect setting for a boy who would become known for portraying animals in their natural environments.
Wilson comes from a couple of generations of settlers in the old silver-mining town nestled in southern Colorado's western San Juan Mountains. His paternal grandmother was born there, as was his father, and his paternal grandfather came to Telluride from Georgia, worked in the mines, and ran a little moonshine. Greg's knowledge and love of the outdoors came naturally as he roamed the region with his father and his uncle, hunting and fishing. By the age of 13, Greg and his friends were making regular backpacking trips to the high mountain lakes to fish, and wildlife sightings were plentiful.
"It was like a different world," he says. "The mountains were my playground, and I knew every inch of the area. The animals that inhabit them still fascinate me—from the yellow-bellied marmot to the big bull elk. I never tire of watching them."
Today, Wilson and his family call Utah home, where they live a mile from the nearest paved road, on a steep hillside, and where he has lots of wildlife for neighbors. Most of his time is spent observing, photographing, sketching, and then painting the animals of the mountain west. He often travels hundreds of miles to view different animals, whether a "mountain goat in Little Cottonwood Canyon, grizzly bears in Yellowstone, mountain lions in southern Utah, or bighorn sheep in Montana."
"They had respect for the animals, and we were always outside hiking, walking around, observing nature, gathering food for the table."
Click on artwork to see details.