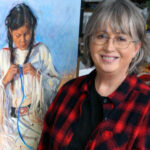 Barbara Summers-Edwards, born and raised in Southeastern Idaho, is a fourth generation native of the American West. Graduating from Utah State University in illustration and working as a freelance illustrator, Barbara evolved as a fine art oil and watercolor painter. Commonly portraying figurative imageries, her painterly, realistic paintings have received numerous awards (listed below) as they have been exhibited in international, national, regional and state juried, invitational, group and two person exhibits.
In 2018 Women Artists of the West awarded Barbara FIRST PLACE in their WAOW Online Spring Exhibit and she was also honored by American Women Artists with an AWARD OF MERIT in the AWA 2018 Spring Online Juried Show. The Utah Arts Council as part of the State of Utah's Permanent Collection purchased two of Barbara's paintings. One of those, "Gotcha!" hangs in the Governor's Mansion in the State of Utah.
My subject matter, color and style are a very personal, intuitive part of who I am since I discovered art at the age of twelve. I enjoy working with figurative imagery, although more and more, I am examining landscape and often combine the two. I love observing people, especially children as I wish to see the world anew through their eyes. I am most interested in small everyday moments often missed or seemingly unimportant compared to the social and headline grabbing events of the world.
Barbara's painting. "First Day of Spring" was awarded Best of Show in the 2015 American Plains Artists 26th Annual Juried Exhibit. She was the Featured Artist of the 2016 Utah State Fair, Oil Painters National and Regional AWARDS OF EXCELLENCE, Utah Watercolor Society's AWARD OF EXCELLENCE, Intermountain Society of Artists' FIRST PLACE PAINTING AWARD. The Oil Painters of America Board of Directors in 2011 awarded Signature Status to Barbara for her "remarkable talent". Barbara is also a Signature Member of American Plains Artists and an Associate Member of American Women Artists (AWA), Women Artists of the West (WAOW), National Oil and Acrylic Painters Society (NOAPS) and Society of Mormon Artists (SOMA).
Click on artwork to see details.