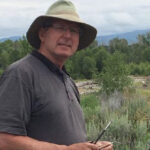 John Hughes is a plein air and studio artist with over 35 years' experience. He teaches workshops and classes through the Scottsdale Artist's School, as well as Salt Lake Community College and other venues. He has written numerous articles on painting for Fibonacci Fine Arts Digest, 15 Bytes and Outdoor Painter. He has had feature articles in national as well as international art magazines such as Plein Air Magazine, Fibonacci Fine Arts Digest, 15 Bytes and Pratique Des Arts. He is featured at Montgomery Lee Fine Art, in Park City, Utah. John is a member of the Rocky Mountain Plein Air Painters, Plein Air Painters of Utah and the American Impressionist Society.
Painting the landscape has been my passion for most of my life. I started out in Ossining New York as a young teenager and attempted to paint along the Croton River on several occasions. These excursions were exciting and frustrating at the same time. I eventually got professional instruction with some of the Country's best Painters, but that was years later.
Whether painting the great outdoors of the American West or working on a crowded street of New Your City, painting is just as much a thrill now as it was the first time I set out to paint the Croton River!
Click on artwork to see details.