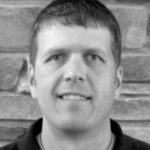 Jared Sanders was born in 1970 in Kaysville, Utah. He studied art with Glen Edwards at Utah State University. It wasn't long after graduation that Sanders attracted the attention of both galleries and collectors. Sanders currently lives near the small town of Heber, Utah, and paints the enduring forms of farmlands, hills, rivers, and trees that he intimately knows and loves. His moody, tonalist western landscapes have given way in recent years to iconic barn paintings.
The western landscape offers up a wealth of abstract elements to Sanders' eye. He pulls out these elements and plays with them. Structural, human-made influences take up a dialogue with the natural curves of the land. He likes to put the horizon line low in a painting so that the overall feel becomes calm and restful, yet not without a certain tension still being held in the composition.
To me, barns are simply a great visual gift that someone built and left on the landscape for me to use in my work.
Sanders considers himself a regionalist, and travels the winding roads of the West for his inspiration. His masterful handling of paint allows him to portray the subtle grace of a small Utah farmhouse at dawn, a vast Montana pasture in early spring, or a hundred-year-old Colorado barn. His skies are exquisite – luminous yet quietly potent. The artist's reverence for the everyday contemporary West is clearly evident in his work.
Click on artwork to see details.