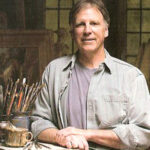 Steve Songer graduated from Weber State University in 1971 with a B.S. Degree in Commercial Art and again in 1973 with a B.S. Degree in Art Education. Returning to school in 1983, he received his M.F.A. in Painting from Utah State University. In 1989, Steve had the opportunity to study at the Royal Academy of Art in London.
Steve began his art career as a designer for Marveon Sign Company. He later went into teaching art on the high school level and found it to be both challenging and satisfying. He has received numerous awards for his dedication to the students. Among those awards were: Utah State University 'Art Teacher of the Year' (4 state area) in 1985, 'Teacher of the Year' for Weber School District in 1988, first runner-up to 'Utah Teacher of the Year' in 1988, and USWEST's 'Outstanding Teacher of the Year for the state of Utah' in 1991. In 1997, after 25 years of teaching, Steve retired from the classroom to devote himself full-time to painting.
Steve is a very accomplished painter. In the past twenty-five years, he has been featured in many invitational art exhibitions, receiving numerous awards such as: 1st Place in the Eccles Statewide Competition, 1st place in the St. George Art Festival and Award of Merit from Utah Watercolor Society. More recently he won the purchase award at both the Springville Salon and the Dixie Invitational, and had a painting selected for the permanent collection of the Utah State Division of Fine Arts. His paintings can be found in private collections throughout the world.
Click on artwork to see details.