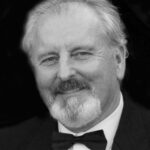 Dr. William Maughan, is the Executive Director of the undergraduate and graduate programs in illustration and is also Chair of the Academic Steering Committee for the Academy of Art University in San Francisco. Dr. Maughan also directed the Masters Program in both Fine Art and Traditional Illustration at the Academy of Art from 1999 to 2008, and served as Director of Foundations, from 1995 to 1999. After a brief retirement, He was asked to return to the Academy to direct the Masters program in Illustration. In 2012 He was honored with an Honorary Doctorates Degree.
Dr. William Maughan has been a commercial illustrator since 1973. A partial client list includes General Motors Corporation, CBS Television, Wells Fargo Bank, Fenwick, Boston Beer, Captain Morgan and Dream Works. His illustrations have also graced the pages of T.V. Guide, Cosmopolitan, Field and Stream, Boys Life, Yachting, and Golf Digest. He has created numerous paperback book covers for New American Library, Torra, Pinnacle, Doubleday, and Harlequin, as well as Children's books for Knopf, Oxford University Press, Dutton, and Crown Publishers.
His fine art career began in the early 1980s, creating Western and Civil War art and limited edition prints sold worldwide. After a visit to France in 1987, he began to captivate a wide audience of collectors with his plein-air landscape compositions in both oil and pastel.
Click on artwork to see details.