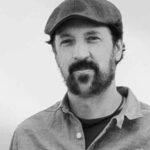 Eric Thompson is a self-taught artist residing in Sugarhouse, UT. At 46, he's had the pleasure of being represented in museums all over the country, and featured in publications like American Art Collector and Southwest Art. He's studied the masters to develop the fine art of oil, the unforgivable watercolor, and the dying art of egg tempera. A student of Zen and meditation, discipline and determination are his strong suit, choosing the school of trial and error over any formal art training. He paints in his backyard studio with his wife, muse, and business partner, Hilary, his two daughters, and his intrepid French bulldog always close at hand.
A painter since 1989, Eric now resides in Salt Lake City, Utah and has been selling his work professionally since 2002. He paints from his travels and the treasures discovered along the way, and he chooses his medium based on the mood he wishes to convey. Eric will continue to paint, evoking our memories, shedding light on the beauty and solitude of ordinary moments once forgotten, now glorified before us in fluid brushstrokes. Eric seeks to find greatness in the most humble of subject matter, illustrated by Elbert Hubbard's words, hanging in his studio: "Little minds are interested in the extraordinary; great minds in the commonplace."
After finishing his work at the university, he moved his family to the New York Metropolitan area where he worked as an illustrator for book publishers and magazines. It was at that time when Mr. Spencer began developing his fine art career by painting for exhibition in galleries and juried shows. He has been included in such shows as the Oil Painters of America (Awards from multiple years), Masters in Miniature, American Miniatures Show, Scottsdale Artist's School – Best and Brightest (Best of Show), The Harrisburg PA Art Association (Best of Show), and National Oil & Acrylic Painters' Society (Monteverde Award). After living on the East Coast for seven years he moved his family back to the West where he now pursues his fine art career full time. He and his family reside in the small town of Blackfoot, Idaho.
Click on artwork to see details.