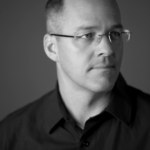 The pastoral landscapes that Malm paints are a reflection of his feelings about rural Utah, about which he says, "I love the old farm communities, the grazing animals and wide open fields. There is something peaceful about these settings". Though he enjoys painting the beautiful valley around him, he has not limited himself to landscapes, and often includes figures, grazing animals and still life in his work. A native of Utah, Michael Malm is a painter of figurative subjects, especially females in western landscape, often with horses. He has achieved his professional art reputation early, being only 22 when he began and got immediate acceptance in prestigious galleries and won the Arts for the Parks competition.
Painting for me is about expressing a feeling or emotion through visual means. When I see something that moves me, I work to break it down to find the essence of what it is visually that makes the scene so appealing.
Michael lives in the beautiful Cache Valley of northern Utah with his wife, Juanita, and their four children. The surrounding rural communities and setting provide backdrops for his figure paintings and inspiration for his landscapes. His serious study began under Del Parson at Dixie College where he completed his associate' degree. He then went on to Southern Utah University where he had the opportunity to study with Perry Stewart, and completed his formal education at Utah State University where he received a Master of Fine Arts Degree studying under Glen Edwards.
Click on artwork to see details.