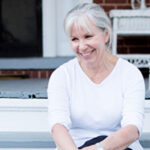 Nancy Bass's paintings explore the fellowship between humans and animals through innovative approaches to the genres of landscape and portraiture. She is an artist who both lives with and thinks with nature. When she is not at her easel, Bass is photographing the skies and seabirds along the west coast of Florida, where she spends the winters, or tending to the garden at her home outside Asheville, in the mountains of North Carolina.
Bass was born in 1957 in Peoria, Illinois and studied art at Drake University in Iowa before moving to the east coast. For thirty-five years, she lived and worked on a farm in Albemarle County, Virginia where she raised a herd of cattle with her husband. There she began to develop two significant bodies of works: the first, a series of close-up portraits that recognize cows as individual, knowing subjects; and second, a series that transposes cows from their natural environment into the realms of abstract color fields.
Bass's recent awards include a First Place from The Artist's Magazine and a Jurors Award in the Art2Life International Competition. In numerous juried exhibitions, her paintings have been singled out by critics and museums professions alike.
Nancy has direct contact with the farm animals depicted in her paintings — she knows the personality of her subjects… and it shows in her work. Her background — and lifestyle — offers a unique 'jumping point' for the direction she is exploring with her art. The juxtaposition between traditional and contemporary is eye-catching, to say the least. — Brian Sherwin, Art Critic and Curator.
Click on artwork to see details.