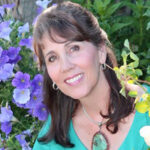 Elizabeth was raised in the Wasatch Mountains of Utah. She is best known for her classically beautiful floral Still Life but also enjoys painting portraits and capturing the soul of a person. As a child, her Grandmothers would help her identify various wild flowers at their cabin above Oakley, Utah. This is where her love of flowers began.
Robbins also grows all the flowers that she lovingly paints. Over 80 roses, peonies, lilies, sunflowers and many other flowers are just a step away from her 600 sq ft studio where she paints. She is co-owner of Bella Muse Gallery in Ogden, Utah and owns Bella Muse Productions where she films and produces instructional painting videos to help inspire other artists along their journey.
"I still have the book where I pressed and categorized wild flowers that my paternal Grandmother helped me with."
She has won numerous awards including "Best Still Life" and "Best of Show" at the National Oil and Acrylic Painter's Exhibit and the "Tuffy Berg Award" at the 2008 CM Russell auction. She is a Signature Member of the Oil Painters of America, a Master Signature Member of the American Women Artists, and the National Oil and Acrylic Painter's Society. Robbins has been featured in Southwest Art, The Artist Magazine, American Art Collector, Western Art Collector and Art of the West.
Click on artwork to see details.